IN THE NEWS!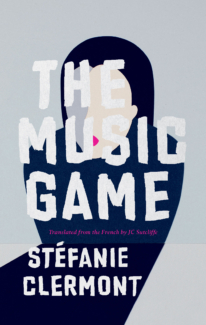 The Music Game
by Stéfanie Clermont (February 8, 2022) is now available in stores!
The Music Game
was listed by
NYLON 
as 'one of the best books coming out in February' in a list published online on January 26, 2022. You can read the full article
here
.
Sophia June writes,
"Let's hear it for an indie sleaze-era novel … class issues, deep friendship, betrayal, a gender transition and anti-globalization protests. You know, just ~Millennial~ stuff!"
The Music Game has been reviewed by Stacey May Fowles in Open Book. The review was posted online on February 3, 2022. Check out the full review here.
Stacey May Fowles writes,
"The Music Game seems to ask us to return to those vital conversations about the way we have been hurt and about wanting to make things better, even if the room to do that may feel so out of reach. It's a book that allows us to escape our reality while also somehow facing it head-on. It's a reminder of our fundamental interconnectedness, of the loss that still cuts through us every day, and, more than anything else, of the necessity of hope."
The Music Game was also featured as a bookseller pick on 49th Shelf! The recommendation was posted on February 8, 2022. See the full list of recommendations here.
Susan Chamberlain (The Book Keeper) writes,
"Stéfanie Clermont's award-winning debut novel is impressive and makes me look forward to her future writings. The novel is told in short glimpses or snapshots of time in the lives of the main characters and their satellite friends. It is the story of three young women growing into themselves and finding their way in the 2010s. Sabrina, Celine, and Julie begin as idealistic, anti-capitalist protesters, working low-level jobs and struggling to pay rent. They come together and move apart as they form friendships and experience jealousy, rivalry, and grief. They discuss big-picture issues and the minutia of everyday life while they pursue sex, find love, fall into the pits of depression and deal with the death by suicide of Vincent, a young man in their friend circle. Clermont masterfully navigates the blurry devastation of grief with gritty realism blanketed in the writing skills of a poet. This novel contains many passages that made me stop and savour the author's deft manipulation of language and her ability to bring deep emotion to the surface. This is a book that I can highly recommend to readers who enjoy discovering new, talented, contemporary writers."
Stéfanie Clermont was interviewed on CBC Breakaway yesterday, on February 9, 2022. You can listen to the full interview here.
Order your copy of The Music Game here!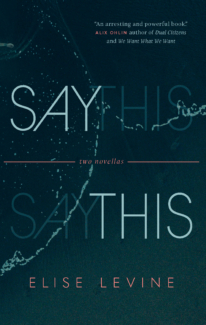 The first chapter of Elise Levine's forthcoming book, Say This (March 1, 2022), has been published as an excerpt on Open Book. The excerpt was published online on February 8, 2022. You can read the full excerpt here.
Of the book, Open Book writes,
"Two linked novellas function as one powerful storytelling magic trick. Formally ambitious but grounded in deep, unflinching, and complex emotional truth … Devastating, beautifully and intentionally fragmented, and arresting, Say This peels back the layers of power, violence, trauma, and guilt that surround its central crime."
Preorder Say This from Biblioasis here!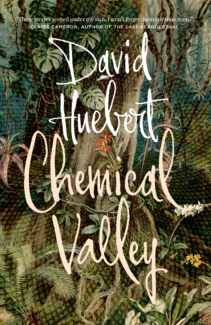 Chemical Valley by David Huebert (October 19, 2021), was reviewed in the Literary Review of Canada! The review has been published online, and will appear in print in their March 2022 issue. You can read it here.
Reviewer André Forget writes,
"First in his 2017 collection Peninsula Sinking and now in Chemical Valley, Huebert's uncanny facility for spinning densely poetic fiction out of the tawdry horror of twenty-first-century life has made him one of the most captivating authors of the past decade."
Get your copy of Chemical Valley here!
THE DAY-BREAKERS & HAIL, THE INVISIBLE WATCHMAN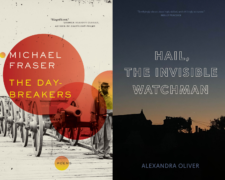 Hail, the Invisible Watchman by Alexandra Oliver (April 5, 2022) and The Day-Breakers by Michael Fraser (April 5, 2022) were both listed by CBC Books as 'Canadian poetry collections to watch for in spring 2022'! The list was published online on February 3, 2022. You can check out the full list here.
Preorder Hail, the Invisible Watchman here!
Preorder the Day-Breakers here!
http://biblioasis.com/wp-content/uploads/2022/02/MEDIA-ROUND-UP-1.png
800
2000
biblioasis
http://biblioasis.com/wp-content/uploads/2014/12/BIBLIOASIS-Logo-500x500-White-300x300.png
biblioasis
2022-02-10 12:41:58
2022-02-10 12:41:58
CHEMICAL VALLEY, THE MUSIC GAME, SAY THIS, THE DAY-BREAKERS, HAIL THE INVISIBLE WATCHMAN: Rave Reviews!