Nov
22
Fri
Pauline Holdstock at Sydney LitFest

@ Shoal Centre
Nov 22 @ 7:00 pm – 9:00 pm
7 p.m. Shoal Centre, 10030 Resthaven Drive, Sidney, B.C.
Tickets $10 (including refreshments) are available online and at Tanner's Books. A package of tickets to all four events in the Fall 2019 Reading Series will be available for $30 at Tanner's Books only. All proceeds from ticket sales will go to support the 2021 Sidney and Peninsula Literary Festival.
Nov
28
Thu
A Christmas Ghost Story Party

@ Biblioasis Bookshop
Nov 28 @ 7:00 pm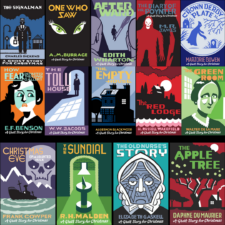 Reading a ghost story on Christmas Eve was once as much a part of traditional Christmas celebrations as turkey, eggnog, and Santa Claus. We are reviving that tradition through our annual Christmas Ghost Stories series! Come to the bookstore for cookies, hot chocolate, and spooky stories read by students from the UWindsor Drama Department.