Sep
20
Mon
Randy Boyagoda at Fordham University
Sep 20 @ 5:30 pm – 6:30 pm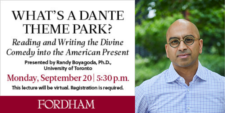 What's A Dante Theme Park?
Join Randy Boyagoda for this virtual talk and reading from his new novel, Dante's Indiana, he will reflect on what it means to imagine contemporary life with and through Dante's vision of eternal sinners and saints. In turn, he will consider what the perils and promises of Inferno and Paradiso mean for our own lives in a purgatorial-feeling here and now. The lecture will be hosted by Fordham University for their Fordham Reads Dante project, and will take place over Zoom on Monday, September 20 at 5:30PM EDT.
Register to receive your link here!
More details here.
ABOUT DANTE'S INDIANA
Middle-aged, married, but living on his own, Prin has lost his way. Desperate for money and purpose, he moves to small-town Indiana to work for an evangelical millionaire who's building a theme park inspired by Dante's Inferno. He quickly becomes involved in the difficult lives of his co-workers and in the wider struggles of their opioid-ravaged community while trying to reconcile with his distant wife and distant God. Both projects spin out of control, and when a Black teenager is killed, creationists, politicians and protesters alike descend. In the midst of this American chaos, Prin risks everything to help the lost and angry souls around him while searching for his own way home.
Following Original Prin, a New York Times Book Review Editor's Choice and Globe and Mail Best Book, Dante's Indiana is affecting and strange, intimate and big-hearted—an extraordinary journey through the darkly divine comedies of our time.
ABOUT RANDY BOYAGODA
Randy Boyagoda is the author of six books, including the novels Governor of the Northern Province, Beggar's Feast, and Original Prin. His work has been nominated for the Scotiabank Giller Prize, IMPAC Dublin Literary Prize, and named a Globe and Mail Best Book of the year and New York Times Book Review Editor's Choice. An essayist, book critic and radio columnist, he is a professor of English at the University of Toronto, where he lives with his wife and their four daughters.
Purchase your copy of Dante's Indiana from Biblioasis here!
Sep
26
Sun
Doireann Ní Ghríofa with Malvern Books
Sep 26 @ 1:00 pm – 2:00 pm
Join acclaimed writer Doireann Ní Ghríofa, author of A Ghost in the Throat for a reading over Zoom, in an event hosted by Malvern Books. Doireann will be joined in conversation by author Alyssa Harad. This event can also be viewed live on the Malvern Books YouTube channel.
More details TBA here.
ABOUT A GHOST IN THE THROAT
An Post Irish Book Awards Nonfiction Book of the Year • A Guardian Best Book of 2020 • Shortlisted for the 2021 Rathbones Folio Prize • Shortlisted for the 2021 Republic of Consciousness Prize • Winner of the James Tait Black Biography Prize • A New York Times New & Noteworthy Title • Longlisted for the 2021 Gordon Burn Prize • A Buzzfeed Recommended Summer Read
When we first met, I was a child, and she had been dead for centuries.
On discovering her murdered husband's body, an eighteenth-century Irish noblewoman drinks handfuls of his blood and composes an extraordinary lament. Eibhlín Dubh Ní Chonaill's poem travels through the centuries, finding its way to a new mother who has narrowly avoided her own fatal tragedy. When she realizes that the literature dedicated to the poem reduces Eibhlín Dubh's life to flimsy sketches, she wants more: the details of the poet's girlhood and old age; her unique rages, joys, sorrows, and desires; the shape of her days and site of her final place of rest. What follows is an adventure in which Doireann Ní Ghríofa sets out to discover Eibhlín Dubh's erased life—and in doing so, discovers her own.
Moving fluidly between past and present, quest and elegy, poetry and those who make it, A Ghost in the Throat is a shapeshifting book: a record of literary obsession; a narrative about the erasure of a people, of a language, of women; a meditation on motherhood and on translation; and an unforgettable story about finding your voice by freeing another's.
ABOUT DOIREANN NÍ GHRÍOFA
Doireann Ní Ghríofa is author of six critically-acclaimed books of poetry, whose awards include the Rooney Prize for Irish Literature and a Seamus Heaney Fellowship (Queen's University). Her debut book of prose is the bestselling A Ghost in the Throat, which finds the 18th-century poet Eibhlín Dubh Ní Chonaill haunting the life of a contemporary young mother, prompting her to turn detective, and of which the Sunday Times writes: "Sumptuous, almost symphonic, in its intensity … As readers, we should be grateful for her boldness. Without it, we would not have had one of the best books of this dreadful year."