Sep
26
Sun
Things Are Against Us Virtual Launch
Sep 26 @ 2:00 pm – 3:00 pm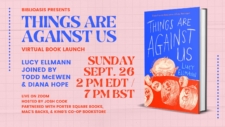 You're invited to join us for the virtual launch of Lucy Ellmann's debut essay collection, Things Are Against Us!
Tune in live on Sunday, September 26 at 2PM EDT / 7PM BST. Lucy Ellmann will be joined in conversation by Todd McEwen and Diana Hope. The event will be hosted by Josh Cook. Biblioasis is partnering with King's Co-op Bookstore (Halifax, NS), Porter Square Books (Cambridge, MA), and Mac's Backs (Cleveland Heights, OH) for the event. There will be a reading, discussions, an audience Q&A, and a book giveaway. You could win a copy of THINGS ARE AGAINST US!
We'll be streaming live on Zoom. Video link will be shared closer to the event date. RSVP to stay up to date!
ABOUT THINGS ARE AGAINST US
"It's somehow hard not to be optimistic in the hands of a writer so angry and intelligent."—Patrick Ness, Guardian
Things fall apart; the centre cannot hold. As Yeats pointed out, things have a lot to answer for. These satirical essays jauntily tackle the obstinacy, incorrigibility, and recalcitrance of things, Laura Ingalls Wilder's unimpressive descriptions of the construction of bobsleds and door latches, and the way we try to stand on our own two feet, put our best foot forward, remain footloose and fancy-free, and inevitably put our foot in it. They also cover the first suggestion the internet offers when you look up the word 'women' (spoiler: it's shoes) and other annoyances (some fatal) of male supremacy, the nobility of buttons, and what the rejection of tourists by Jordanian donkeys should mean for global travel (stop!). Ingrid Bergman and Jane Austen come into it somewhere (Helen Gurley Brown was forcibly removed).
Early versions of some of these essays have appeared in international outlets of record, but others are brand-new and ready for your delectation.
ABOUT LUCY ELLMANN
Here's the thing: Lucy Ellmann is extremely shy. She's so awkward and self-conscious that meeting strangers, or almost anyone, exhausts her. She's lousy at remembering names. She cannot add or subtract. She hates having appointments in her diary and prefers to wear the same outfit every day. She's a helpless iconoclast much prone to anger. She's also distrustful, lazy, and easily hurt. She is not a team player. She prefers interrupting people to organising them, and cries if she doesn't get her way. She fears she's neglected everybody she knows, and vice versa—not to mention people she doesn't know. She can't stand protocol, committees, business hours, ceremonial occasions, and filling out forms. And she never wants to be carried through a crowd on a palanquin. Otherwise, the world's her oyster! She has written seven novels, including Sweet Desserts (Guardian Fiction Prize) and Ducks, Newburyport (Goldsmiths Prize, James Tait Black Memorial Prize), and an illustrated book for adults, called Tom the Obscure. This is her first essay collection.
Order your copy of Things Are Against Us from Biblioasis here!
Sep
29
Wed
Householders and Chemical Valley: Virtual Double Launch
Sep 29 @ 7:00 pm – 8:00 pm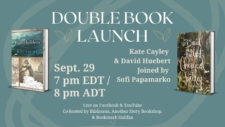 Join us for a special virtual launch for two short story collections! We'll be celebrating David Huebert's Chemical Valley and Kate Cayley's Householders. 
Tune in live on Thursday, September 29 at 7PM EDT / 8PM ADT. Kate Cayley and David Huebert will be joined in conversation by author Sofi Papamarko. Co-hosted by Another Story Bookshop. There will be readings, discussions, an audience Q&A, and a book giveaway. You could win a copy of one of the new books!
We'll be streaming live on Facebook & on YouTube. Video link will be shared closer to the event date. RSVP to stay up to date!
ABOUT HOUSEHOLDERS
Linked short stories about families, nascent queers, and self-deluded utopians explore the moral ordinary strangeness in their characters' overlapping lives.
A woman impersonates a nun online, with unexpected consequences. In a rapidly changing neighborhood, tensions escalate around two events planned for the same day. The barista girlfriend of a tech billionaire survives a zombie apocalypse only to face spending her life with the paranoid super-rich. From a university campus to an underground bunker, a commune in the woods to Toronto and back again, the linked stories in Householders move effortlessly between the commonplace and the fantastic. In deft and exacting narratives about difficult children and thorny friendships, hopeful revolutionaries and self-deluded utopians, nascent queers, sincere frauds, and families of all kinds, Kate Cayley mines the moral hazards inherent in the ways we try to save each other and ourselves.
ABOUT KATE CAYLEY
Kate Cayley has previously written a short story collection, two poetry collections, and a number of plays, both traditional and experimental, which have been produced in Canada and the US. She is a frequent writing collaborator with immersive company Zuppa Theatre. She has won the Trillium Book Award and an O. Henry Prize and been a finalist for the Governor General's Award. She lives in Toronto with her wife and their three children.
ABOUT CHEMICAL VALLEY
Oil-soaked and swamp-born, the bruised optimism of Huebert's stories offer sincere appreciation of the beauty of our wilted, wheezing world.
From city-dwelling preppers to long term care nurses, dishwashers to professional hockey enforcers to refinery workers, Chemical Valley's caring and carefully-wrought stories cultivate rich human emotional worlds in all the dankness of our bio-chemical animacy. Full-hearted, laced throughout with bruised optimism and a sincere appreciation of the profound beauty of our wilted, wheezing world, Chemical Valley does not shy away from urgent modern questions—the distribution of toxicity, environmental racism, the future of technology, the climate, and the human body—but it grounds these anxieties in vivid and often humorous intricacies of its characters' lives. These are stories about big questions, but they are not scared of sentiment. Swamp-wrought, they run wild with vital energy, tilt and teeter into crazed and delirious loves.
ABOUT DAVID HUEBERT
David Huebert's writing has won the CBC Short Story Prize, The Walrus Poetry Prize, and was a finalist for the 2020 Journey Prize. David's fiction debut, Peninsula Sinking, won a Dartmouth Book Award, was shortlisted for the Alistair MacLeod Short Fiction Prize, and was runner-up for the Danuta Gleed Literary Award. David's work has been published in magazines such as The Walrus, Maisonneuve, enRoute, and Canadian Notes & Queries, and anthologized in Best Canadian Stories and The Journey Prize Stories. David teaches at The University of King's College in K'jipuktuk/Halifax, where he lives and writes.
Order your copy of Householders here!
Order your copy of Chemical Valley here!