Oct
18
Tue
Big Men Fear Me: Ottawa Book Launch!

@ Perfect Books
Oct 18 @ 7:00 pm – 8:00 pm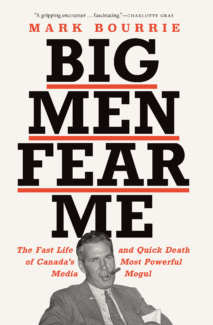 Come out and celebrate the launch of Big Men Fear Me by Mark Bourrie (October 18, 2022)! Mark will be appearing at Perfect Books in Ottawa for the launch, which will include a reading, Q&A, and book signing. The launch will take place on Tuesday, October 18 at 7PM ET.
Grab your copy of Big Men Fear Me here!
The remarkable true story of the rise and fall of one of North America's most influential media moguls.
When George McCullagh bought The Globe and The Mail and Empire and merged them into the Globe and Mail, the charismatic 31-year-old high school dropout had already made millions on the stock market. It was just the beginning of the meteoric rise of a man widely expected to one day be prime minister of Canada. But the charismatic McCullagh had a dark side. Dogged by the bipolar disorder that destroyed his political ambitions and eventually killed him, he was all but written out of history. It was a loss so significant that journalist Robert Fulford has called McCullagh's biography "one of the great unwritten books in Canadian history"—until now.
In Big Men Fear Me, award-winning historian Mark Bourrie tells the remarkable story of McCullagh's inspirational rise and devastating fall, and with it sheds new light on the resurgence of populist politics, challenges to collective action, and attacks on the free press that characterize our own tumultuous era.
Mark Bourrie is an Ottawa-based author, lawyer, and former journalist. He holds a master's in Journalism from Carleton University and a PhD in History from the University of Ottawa. In 2017, he was awarded a Juris Doctor degree and was called to the Bar in 2018. He has won numerous awards for his journalism, including a National Magazine Award, and received the RBC Charles Taylor Prize in 2020 for his book Bush Runner: The Adventures of Pierre Radisson.
Oct
25
Tue
Graeme Macrae Burnet at Ottawa Writers Fest
Oct 25 @ 3:00 pm – 4:00 pm
Graeme Macrae Burnet, author of Case Study (November 1, 2022) will be appearing at Ottawa Writers Fest on October 25!
Time and details TBA.
Grab your copy of Case Study from here!
Shortlisted for the 2022 Gordon Burn Prize • Shortlisted for the 2022 Ned Kelly Awards • Longlisted for the 2022 Booker Prize
The Booker-shortlisted author of His Bloody Project blurs the lines between patient and therapist, fiction and documentation, and reality and dark imagination. 
London, 1965. 'I have decided to write down everything that happens, because I feel, I suppose, I may be putting myself in danger,' writes an anonymous patient, a young woman investigating her sister's suicide. In the guise of a dynamic and troubled alter-ego named Rebecca Smyth, she makes an appointment with the notorious and roughly charismatic psychotherapist Collins Braithwaite, whom she believes is responsible for her sister's death. But in this world of beguilement and bamboozlement, neither she nor we can be certain of anything.
Case Study is a novel as slippery as it is riveting, as playful as it is sinister, a meditation on truth, sanity, and the instability of identity by one of the most inventive novelists of our time.
Graeme Macrae Burnet is among Scotland's leading contemporary novelists. Best known for his dazzling Booker-shortlisted second novel, His Bloody Project (2015), he is also the author of two Simenon-influenced novels: The Disappearance of Adele Bedeau (2014) and The Accident on the A35 (2017). Burnet has appeared at literary festivals in Australia, the USA, Germany, India, Russia, Spain, France, Korea, Denmark and Estonia. His novels have been translated into more than twenty languages and achieved bestseller status in several countries. He lives and works in Glasgow.