Oct
28
Fri
Luke Hathaway at Wild Writers Festival

@ Balsillie School of International Affairs
Oct 28 @ 3:00 pm – 4:00 pm
Luke Hathaway will be appearing at the Wild Writers Literary Festival, and reading from his latest poetry collection, The Affirmations (April 5, 2022). The event will take place at the Balsillie School of International Affairs on Friday, October 28.
Time and details TBA.
Grab a copy of The Affirmations here!
"…a trans-mystical work of love and change…"—Ali Blythe, author of Hymnswitch
The mystics who coined the phrase 'the way of affirmation' understood the apocalyptic nature of the word yes, the way it can lead out of one life and into another. Moving among the languages of Christian conversion, Classical metamorphosis, seasonal transformation, and gender transition, Luke Hathaway tells the story of the love that rewired his being, asking each of us to experience the transfiguration that can follow upon saying yes—with all one's heart, with all one's soul, with all one's mind, with all one's strength … and with all one's body, too.
Luke Hathaway is a trans poet who teaches English and Creative Writing at Saint Mary's University in Kjipuktuk/Halifax. He has been before now at some time boy and girl, bush, bird, and a mute fish in the sea. His book Years, Months, and Days was named a best book of 2018 in The New York Times. He mentors new librettists as a faculty member in the Amadeus Choir's Choral Composition Lab, and makes music with Daniel Cabena as part of the metamorphosing ensemble ANIMA.
Oct
29
Sat
Cynthia Flood at Wild Writers Festival

@ The Balsillie School of International Affairs
Oct 29 @ 3:00 pm – 4:00 pm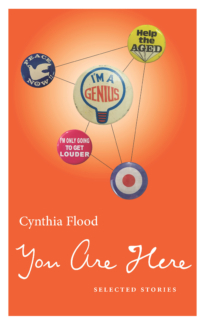 Come on out to the Wild Writers Literary Festival, where Cynthia Flood, author of You Are Here (November 15, 2022) will be appearing in a fiction panel about the short story form! Cynthia will be reading from her collection, followed by a Q&A and discussion. The panel will take place at the Balsillie School of International Affairs on Saturday, October 29 at 3PM.
Order your copy of You Are Here here!
Gathering the best twenty stories from Cynthia Flood's career, these spare, stylistically inventive stories explore subjects ranging from the domestic to the political. 
In You Are Here, Cynthia Flood navigates a wide range of subject matter with a writing style which gradually becomes more intense, tighter, and sometimes experimental with each story. Most themes are familiar—love, hate, children, the natural world, parents, failure, despair, anger, regret. Other stories are more unusual, but remain perceptively relevant, dealing with topics such as far-left political activity and enduring the social pressures that come from family and peers. Containing what may be some of Flood's most poignant work, You Are Here is a sharp and engaging exploration of the world today.
Cynthia Flood's stories have won numerous awards, including The Journey Prize and a National Magazine award, and have been widely anthologized. Her novel Making A Stone Of The Heart was nominated for the City of Vancouver Book Prize in 2002. She is the author of the acclaimed short story collections The Animals in Their Elements (1987) and My Father Took A Cake To France (1992). She lives on Vancouver's West End.
Oct
30
Sun
Emily Urquhart at Wild Writers Festival
Oct 30 @ 3:00 pm – 4:00 pm
Come on out to the Wild Writers Literary Festival, where Emily Urquhart will be reading from her new essay collection, Ordinary Wonder Tales (November 1, 2022)! The event will take place on Sunday, October 30.
Time and details TBA.
Order your copy of Ordinary Wonder Tales here!
A journalist and folklorist explores the truths that underlie the stories we imagine—and reveals the magic in the everyday.
"I've always felt that the term fairy tale doesn't quite capture the essence of these stories," writes Emily Urquhart. "I prefer the term wonder tale, which is Irish in origin, for its suggestion of awe coupled with narrative. In a way, this is most of our stories." In this startlingly original essay collection, Urquhart reveals the truths that underlie our imaginings: what we see in our heads when we read, how the sight of a ghost can heal, how the entrance to the underworld can be glimpsed in an oil painting or a winter storm—or the onset of a loved one's dementia. In essays on death and dying, pregnancy and prenatal genetics, radioactivity, chimeras, cottagers, and plague, Ordinary Wonder Tales reveals the essential truth: if you let yourself look closely, there is magic in the everyday.
Emily Urquhart is a journalist with a doctorate in folklore. Her award-winning work has appeared in Longreads, Guernica, and The Walrus and elsewhere, and her first book was shortlisted for the Kobo First Book Prize and the BC National Award for Canadian Nonfiction. Her most recent book, The Age of Creativity: Art, Memory, my Father and Me, was listed as a top book of 2020 by CBC, NOW Magazine and Quill & Quire. She is a nonfiction editor for The New Quarterly and lives in Kitchener, Ontario.