Oct
19
Wed
Ray Robertson at Good Neighbour Bookstore

@ Good Neighbour Bookstore
Oct 19 @ 7:00 pm – 8:00 pm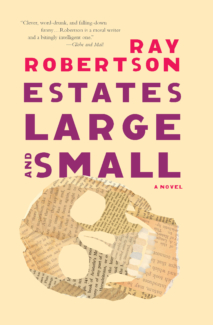 Ray Robertson, author of Estates Large and Small (August 16, 2022), will be reading at Good Neighbour Bookstore! The reading, followed by a discussion, Q&A, and book signing, will take place on Wednesday, October 19 at 7PM ET.
Get your copy of Estates Large and Small here!
Profound, perceptive, and wryly observed, Estates Large and Small is the story of one man's reckoning and an ardent defense of the shape books make in a life.
What decades of rent increases and declining readership couldn't do, a pandemic finally did: Phil Cooper has reluctantly closed his secondhand bookstore and moved his business online. Smoking too much pot and listening to too much Grateful Dead, he suspects that he's overdue when it comes to understanding the bigger picture of who he is and what we're all doing here. So he's made another decision: to teach himself 2,500 years of Western philosophy.
Thankfully, he meets Caroline, a fellow book lover who agrees to join him on his trek through the best of what's been thought and said. But Caroline is on her own path, one that compels Phil to rethink what it means to be alive in the twenty-first century. In Estates Large and Small Ray Robertson renders one man's reckoning with both wry humour and tender joy, reminding us of what it means to live, love, and, when the time comes, say goodbye.
Ray Robertson is the author of eight novels and three works of non-fiction. His work has been translated into several languages. Born and raised in Chatham, Ontario, he lives in Toronto.
Nov
15
Tue
Clark Blaise at Greenlight Bookstore

@ Greenlight Bookstore
Nov 15 @ 3:00 pm – 4:00 pm
Come out to Greenlight Bookstore in Brooklyn, where Clark Blaise will be reading from his collection of short fiction, This Time, That Place (October 18, 2022)! The reading and Q&A will take place on Tuesday, November 15.
Time and details TBA.
Grab your copy of This Time, That Place here!
"Blaise is probably the greatest living Canadian writer most Canadians have never heard of." —Quill & Quire
"If you want to understand something about what life was like in the restless, peripatetic, striving, anxiety-ridden, shimmer cultural soup of the late twentieth and early twenty-first centuries," writes Margaret Atwood, "read the stories of Clark Blaise." This Time, That Place draws together twenty-four stories that span the entirety of Blaise's career, including one never previously published. Moving swiftly across place and time, through and between languages—from Florida's Confederate swamps, to working-class Pittsburgh, to Montreal and abroad—they demonstrate Blaise's profound mastery of the short story and reveal the range of his lifelong preoccupation with identity as fallacy, fable, and dream.
This Time, That Place: Selected Stories confirms Clark Blaise as one of the best and most enduring masters of the form—on either side of our shared borders.
Clark Blaise (1940-), Canadian and American, is the author of 20 books of fiction and nonfiction. A longtime advocate for the literary arts in North America, Blaise has taught writing and literature at Emory, Skidmore, Columbia, NYU, Sir George Williams, UC-Berkeley, SUNY-Stony Brook, and the David Thompson University Centre. In 1968, he founded the postgraduate Creative Writing Program at Concordia University; he after went on to serve as the Director of the International Writing Program at Iowa (1990-1998), and as President of the Society for the Study of the Short Story (2002-present). Internationally recognized for his contributions to the field, Blaise has received an Arts and Letters Award for Literature from the American Academy (2003), and in 2010 was made an Officer of the Order of Canada.