Oct
29
Sat
Cynthia Flood at Wild Writers Festival

@ The Balsillie School of International Affairs
Oct 29 @ 3:00 pm – 4:00 pm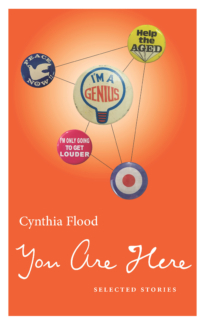 Come on out to the Wild Writers Literary Festival, where Cynthia Flood, author of You Are Here (November 15, 2022) will be appearing in a fiction panel about the short story form! Cynthia will be reading from her collection, followed by a Q&A and discussion. The panel will take place at the Balsillie School of International Affairs on Saturday, October 29 at 3PM.
Order your copy of You Are Here here!
Gathering the best twenty stories from Cynthia Flood's career, these spare, stylistically inventive stories explore subjects ranging from the domestic to the political. 
In You Are Here, Cynthia Flood navigates a wide range of subject matter with a writing style which gradually becomes more intense, tighter, and sometimes experimental with each story. Most themes are familiar—love, hate, children, the natural world, parents, failure, despair, anger, regret. Other stories are more unusual, but remain perceptively relevant, dealing with topics such as far-left political activity and enduring the social pressures that come from family and peers. Containing what may be some of Flood's most poignant work, You Are Here is a sharp and engaging exploration of the world today.
Cynthia Flood's stories have won numerous awards, including The Journey Prize and a National Magazine award, and have been widely anthologized. Her novel Making A Stone Of The Heart was nominated for the City of Vancouver Book Prize in 2002. She is the author of the acclaimed short story collections The Animals in Their Elements (1987) and My Father Took A Cake To France (1992). She lives on Vancouver's West End.