An excerpt from Ray Robertson's How to Die: A Book About Being Alive is in the Globe and Mail this weekend. It is available to read online now!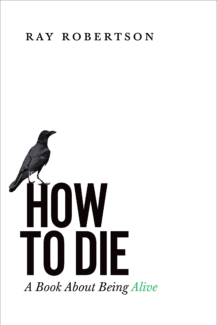 A radical revaluation of how contemporary society perceives death—and a literary tourist's argument for how it can make us happy.
"He who would teach men to die would teach them to live," writes Montaigne in Essais, and in How to Die, Ray Robertson takes up the challenge, arguing that the active and intentional consideration of death is essential to our ability to value life. An absorbing excursion through some of Western literature's most compelling works on the subject of death and a selfhelp book for people who hate self-help, How to Die is an anecdote-driven argument for cultivating a better understanding of death in the belief that, if we do, we'll know more about what it means to live meaningfully.
Ray also appeared on Global TV's Morning Show in January. Click on the image below to watch the interview:
"While How to Die is a slim book, it offers some hefty insights, leavened with frequent, self-effacing humour. There are numerous passages here which, while quick to read (the book is very accessible, despite its philosophical bona fides), nonetheless take hours to fully internalize … Brilliant."
—Robert J. Wiersema, Toronto Star
A shout out to How to Die in Toronto Life:
Click the image below to watch Ray's interview with Annette Hamm on CHCH's Morning Live:
Want to hear more from Ray? Read his interviews in the Windsor Star, Chatham Daily News, or Queen's Journal. Listen to his interview on CBC Windsor Morning.
Want to read the book? Buy it here!
About Ray Robertson:
Ray Robertson is the author of the novels Home Movies, Heroes, Moody Food, Gently Down the Stream, What Happened Later, David, I Was There The Night He Died, and 1979 as well as the non-fiction collections Lives of the Poets (with Guitars), Mental Hygiene: Essays on Writers and Writing and Why Not? Fifteen Reasons to Live, which was short-listed for the Hilary Weston Prize for non-fiction and long-listed for the Charles Taylor Prize for non-fiction. Born and raised in Southwestern Ontario, he lives in Toronto.
http://biblioasis.com/wp-content/uploads/2014/12/BIBLIOASIS-Logo-500x500-White-300x300.png
0
0
biblioasis
http://biblioasis.com/wp-content/uploads/2014/12/BIBLIOASIS-Logo-500x500-White-300x300.png
biblioasis
2020-02-21 11:51:04
2020-02-21 11:51:04
Excerpt from How to Die by Ray Robertson in the Globe and Mail!