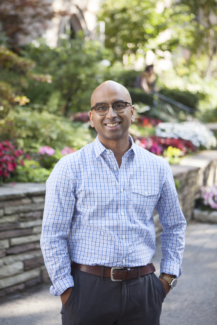 "Book you most want to read again for the first time:
The Hardy Boys book I lost when I was a boy, before I finished it! It had a greenish, demonish face on the cover. I've looked and looked and never found it. Readers, help!"
In today's Shelf Awareness Pro,
Randy Boyagoda does a "Reading With . . . " interview about
A hilarious and heartfelt satire about a Sri Lankan Catholic immigrant family—and faith, fanaticism, and pickleball.
Coverage forthcoming in THE NEW YORK TIMES and LIT HUB
Praised by Salman Rushdie
the Toronto Star
and the Catholic Register
"Original Prin is many things at once: a richly funny campus novel, a painfully humorous portrait of a modern family, an examination of a whole spectrum of religious faith from shaky to fanatical, and finally, in a climax of pitch-black comedy, a thriller too. Boyagoda writes with real panache and drive. An unputdownable book."
—Salman Rushdie
"University corruption, infidelity, Catholic theology, Middle Eastern politics: not many writers could convincingly keep so many balls in the air, and that Boyagoda does so in a truly funny novel is impressive enough. But perhaps even more striking is the depth of sensitivity and understanding that Boyagoda brings to the emotive issues of faith, immigration, and violence. By examining the messy intersections between religious fundamentalism, global capitalism, and liberal values through the gentle comic form of the campus novel, Boyagoda does more than offer clever satire—he humanizes these vast impersonal forces even as he imbues them with a moral complexity that frustrates easy political judgment."
—The Walrus
Original Prin
(May 14, 2019)
"Boyagoda sets up a tightly paced novel in Original Prin that succeeds on a number of fronts. It's a hilarious romp of a campus novel, poking fun at the market-driven ethos of the modern Canadian academy. It's a touching look at the complicated sacrifices demanded of familial love. At heart, it's a richly humorous novel that explores the struggle for spiritual believers in a fiercely secular world . . . capturing the rambunctious multi-faith, multicultural zeitgeist of the city, particularly in corners where cultures and faith overlap . . . Boyagoda has crafted a novel that's fresh and utterly original."
—Toronto Star
"One of the best satirical writers today . . . immediately funny."
—Micah Mattix, The American Conservative
"Timely . . . supremely funny . . . Original Prin deals with much that is purely human, centering on Prin's desire to do the right thing and the very relatable hang-ups and weaknesses that constantly thwart him. Boyagoda's novels are a reminder of what Catholic literature should be like."
—The Catholic Register
"A winning combination of academic satire and sociopolitical commentary that leaves readers facing grim reality and acknowledging the irrationality of it all. Globally aware and witty, this is the opening title in a projected trilogy and a tale that offers a fascinating new perspective on journeys of faith and contemporary intellectual pursuits."
—Booklist
"[Original Prin] skewers the corporatized university and modern world politics alike in this delicious satire . . . A lively complement to Kingsley Amis' Lucky Jim, Malcolm Bradbury's The History Man, Michael Chabon's Wonder Boys, and other academic sendups."
—Kirkus Reviews
"Princely Umbiligoda appears to have it all—a great job as the leading expert on the marine imagery in Canadian literature; a loving family consisting of a wife and four Disney-obsessed daughters; and a strong spiritual connection to his Catholic faith. But underneath there's trouble. Trouble at home, trouble at work, trouble in the newspapers, and trouble with his prostate, troubles that lead to troubling doubts about God. And the disturbing reappearance of an old girlfriend. And a career change to . . . suicide bomber? Did I mention this is a comedy? Well, it is, a great comedy with a brisk pace and a delightfully hapless protagonist the likes of whom I've never met before. Original Prin left me eager to read many more of his exploits. Secondary Prin? Tertiary Prin? Bring 'em on."
—James Crossley, Madison Books
"Boyagoda tempers the subject matter with deftly cunning and witty prose, pinning classical literary references alongside the mundane beauty of office supplies. If it's possible to create a sympathetic character in a potential suicide bomber, Boyagoda has done it: Prin is a complex yet relatable man searching for, above all, a reason to live."
—Morgan McComb, Raven Book Store
"Original Prin is one of those books that defy classification. It's very real, yet surreal. It's funny—actually laugh-out-loud so—but sad."
—Desi News
"A very entertaining read . . . Prin's antics are alarming and funny, but the story's themes of faith and self-deception resonate long after the last sentence."
—CBC Books
"Original Prin finds Boyagoda working explicitly in the tradition of comic Catholic writers such as Evelyn Waugh . . . It is fabulously rare, in our secular age, to find a novel that focuses so insistently and unironically on a character whose religion is not an ancillary aspect of his persona but absolutely central."
—Quill & Quire
"Boyagoda gets it right."
—Hamilton Review of Books
http://biblioasis.com/wp-content/uploads/2014/12/BIBLIOASIS-Logo-500x500-White-300x300.png
0
0
biblioasis
http://biblioasis.com/wp-content/uploads/2014/12/BIBLIOASIS-Logo-500x500-White-300x300.png
biblioasis
2019-05-17 14:25:48
2019-05-17 14:25:48
"It had a greenish, demonish face on the cover. Readers, help!": An Interview with Randy Boyagoda