For the first time, the whole Best Canadian series is under one publishing roof! This year Biblioasis has taken on Best Canadian Poetry, Stories, and Essays with the help of editors Rob Taylor, Anita Lahey, Amanda Jernigan, Caroline Adderson, and Emily Donaldson.
This year's selections feature works by recent Giller-winner Ian Williams and writers such as Billy-Ray Belcourt, Lisa Moore, Zalika Reid-Benta, Richard Van Camp, and more!
Check out interviews with Rob Taylor, guest editor of Best Canadian Poetry 2019 and Caroline Adderson, editor of Best Canadian Stories 2019 in previous blog posts.
We are offering a special deal on our website. For only $60 (shipping and taxes included), you can get all three Best Canadian 2019 books!
About Best Canadian Poetry 2019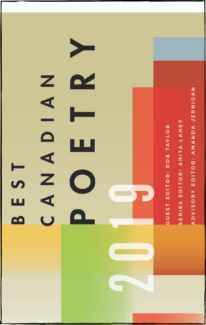 Guest editor Rob Taylor, author of the widely acclaimed collection The News, brings a passionate ear for rhythm, an eye for narrative compression, an appetite for vital subject matter, and an affinity for warmth and wit to his selections for Best Canadian Poetry 2019. The fifty ruggedly independent poems gathered here tackle themes of emergence, defiance, ferocious anger, gratitude, and survival. They are alive with acoustic energy, precise in their language, and moving in their use of the personal to explore fraught political realities. They emit a cloud of invisible energy, a charge.
Featuring work by:
Colleen Baran • Gary Barwin • Billy-Ray Belcourt • Ali Blythe • Marilyn Bowering • Julie Bruck • Sara Cassidy • Sue Chenette • Chelsea Coupal • Kayla Czaga • Sadiqa de Meijer • Adebe DeRango-Adem • Chris Evans • Beth Follett • Stevie Howell • Danielle Hubbard • Dallas Hunt • Catherine Hunter • Sonnet L'Abbé • Ben Ladouceur • Tess Liem • D.A. Lockhart • Jessie Loyer • Annick MacAskill • Domenica Martinello • Laura Matwichuk • Katie McGarry • Jimmy McInnes • A.F. Moritz • Alexandra Oliver • Alycia Pirmohamed • Marion Quednau • Claudia Coutu Radmore • Shazia Hafiz Ramji • Shaun Robinson • Yusuf Saadi • Rebecca Salazar • Ellie Sawatzky • David Seymour • Kevin Spenst • Mallory Tater • Souvankham Thammavongsa • Russell Thornton • Daniel Scott Tysdal • William Vallières • Katherena Vermette • Douglas Walbourne-Gough • Cara Waterfall • Gillian Wigmore • Ian Williams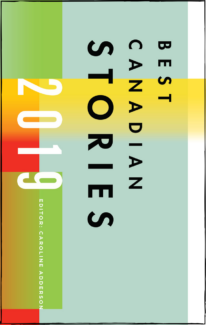 About Best Canadian Stories 2019
Now in its 49th year, Best Canadian Stories has long championed the short story form and highlighted the work of many writers who have gone on to shape the Canadian literary canon. Margaret Atwood, Clark Blaise, Tamas Dobozy, Mavis Gallant, Douglas Glover, Norman Levine, Rohinton Mistry, Alice Munro, Leon Rooke, Diane Schoemperlen, Kathleen Winter, and many others have appeared in its pages over the decades, making Best Canadian Stories the go-to source for what's new in Canadian fiction writing for close to five decades. Selected by guest editor Caroline Adderson, the 2019 edition draws together both newer and established writers to shape an engaging and luminous mosaic of writing in this country today—a continuation of not only a series, but a legacy in Canadian letters.
Featuring work by:
Frankie Barnet • Shashi Bhat • Kai Conradi • Adam Dickinson • Christy Ann Conlin • Zsuzsi Gartner • Camilla Grudova • Elise Levine • Lisa Moore • Alex Pugsley • Zalika Reid-Benta • Mireille Silcoff • Troy Sebastian • Cathy Stonehouse • Richard Van Camp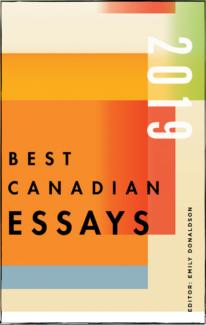 About Best Canadian Essays 2019
The eleventh installment of Canada's annual volume of essays showcases diverse nonfiction writing from across the country. Culled from leading Canadian magazines and journals, 
Best Canadian Essays 2019
 contains award-winning and award-nominated nonfiction articles that are topical and engaging and have their finger on the pulse of our contemporary psyches.
Featuring work by:
Tanya Bellehumeur-Allatt • Ali Blythe • Larissa Diakiw • Jeffery Donaldson • Tarralik Duffy • Sue Goyette • Helen Guri • Danny Jacobs • Robbie Jeffrey • Jessica Johns • Andy Lamey • Jessie Loyer • Pasha Malla • Melanie Mah • Noor Naga • Anthony Oliveira • Meaghan Rondeau • Mireille Silcoff • Souvankham Thammavongsa • Bruce Whiteman
http://biblioasis.com/wp-content/uploads/2014/12/BIBLIOASIS-Logo-500x500-White-300x300.png
0
0
biblioasis
http://biblioasis.com/wp-content/uploads/2014/12/BIBLIOASIS-Logo-500x500-White-300x300.png
biblioasis
2019-11-20 15:39:55
2019-11-20 15:39:55
The Best Canadian Series 2019 — Coming Soon!